What is A Little Ray of Giving?
It's a Christmas initiative run throughout December each year whereby community members are encouraged to wrap and deliver gifts under a giving tree on display in a local Ray White office. The gifts are then collected and distributed by the partnering Rotary club in Australia or RMH in New Zealand to appropriate individuals and organisations. The localised nature of the gift drive allows a suitable benefactor in the community to get a lovely boost to their festive season and let Ray White share the gift of giving. It's all about local heart at an important time of year, but at the same time building more brand awareness in the community. Feedback over the years shows those offices that have participated have ensured that Ray White brand was synonymous with giving. In some instances contacts with these new people have resulted in more than a few prospective leads. What could be better than knowing you are making the difference to people's live's at a special time of year?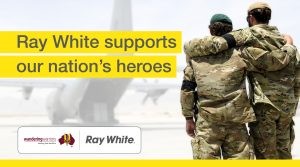 At Ray White Victoria Point we are proud supporters of the Wandering Warriors and their work in our local community.
Wandering Warriors is a charity initiative of the Australian SAS Association whose members volunteer time, energy and resources to provide care, support and opportunities for veterans and their families.
The Ray White Queensland network is coming together to support returning Special Forces servicemen and women through its partnership with the charity.
Assisting Special Forces members in their journey of coming home from battle, Victoria Cross recipient and Patron of the Wandering Warriors, Ben Roberts-Smith, praised the partnership with Ray White and the support it would enable.
"The SAS and other Special Forces have borne a heavy cost in recent decades for serving their country.
"The work of Wandering Warriors goes beyond government assistance. It lets veterans know they are supported, and backed by the Australian community through sponsorship and donation. Having that broad recognition lets our veterans know their efforts on our nation's behalf are appreciated. For veterans transitioning back to civilian life, and for their families, the assistance provided by Wandering Warriors is invaluable."
The first partnership of its kind for Ray White Queensland, state CEO Tony Warland said he is calling on all offices across the state to throw their support behind the Wandering Warriors.
"All our businesses support their communities and will continue to do so. This partnership allows us to come together as one and help provide care and opportunities to our veterans and their families when they need it most," he said.
For the Wandering Warriors, the partnership with Ray White represents a bright future.
"Ray White's support will impact in a number of ways. We'll have more funds to conduct the work that we do and this partnership also allows us to be more extensive in terms of the amount of people we can assist as well as enhance the awareness of the programmes that we have," said Wandering Warriors CEO, Bob Brett MC.
Joyland is located at Patag Road, Brgy. E. Lopez, Silay City, Negros Occidental, Philippines on 3 hectares of land donated by the local council. This area has classified as one of the depressed areas of the country with unemployment, poverty and homelessness a serious issue.
Joyland founded by Rick and Suzette was established in response to the needs of children, families and the community. It has become a home and the genesis of dreams for many orphans, street kids and abandoned and abused children needing temporary or permanent shelter and care. It conducts many community based development and assistance programs including education, social rehabilitation, medical and dental missions, feeding programs and livelihood projects.
Joyland is committed to the priorities of education and community development operating with Christian principles and values to see the cycle of poverty broken in this community. Its' dream is to see the socio-economic and spiritual shackles of poverty broken so much so that true freedom may be experienced, which in turn makes life abundantly meaningful.
joylandgobal.com