With its multitude of parks and esplanades, Victoria Point is a popular destination for leisurely outdoor afternoons spent strolling, swimming, cycling or enjoying a barbecue with family and friends.
There is a great range of urban-chic dining options at the open-planned precinct overlooking the lake created by Eprapah Creek. You can also take in a movie at the local cinema, enjoy drinks with friends in one of the local bars or make the most of some retail therapy.
Victoria Point is the gateway to Coochiemudlo Island and there are regular ferry and barge services from the jetty on Masters Avenue and a boat ramp popular with those wanting easy access to Moreton Bay.
Nestled between Thornlands and Redland Bay, Victoria Point juts out into the bay and is lined with foreshore parks and beaches. Thompson's Beach is a very popular swimming spot in summer and perfect for paddle-boarding.
While you are here:
• Lakeside precinct: Dine at one of the diverse range of restaurants and cafes beside the picturesque man-made lake and then grab a movie at one of the newest and most affordable cinemas in the region.
• Thompson's Beach: Have a picnic and take the children for a dip.Victoria Point is a bayside suburb located approximately 33 kilometres (21 mi) south-east of Brisbane, the capital city of Queensland, Australia, in the Redland City local government area. It is primarily a residential area, but it also contains other public complexes and a ferry service to Coochiemudlo Island.
The headland has two boat ramps for boat entry to Moreton Bay and a Volunteer Marine Rescue unit. Beach areas include Thompson's Beach, a small child safe beach which has a very shallow slope allowing a long tide. Shopping facilities have expanded rapidly in the last few years, with now four supermarkets, a public library, cinema complex and many specialty shops and lakeside restaurants.
Demographics:
In the 2011 Census the population of Victoria Point was 14,817, 52.3% female and 47.7% male. The median/average age of the Victoria Point population is 41 years of age, 4 years above the Australian average. 74.8% of people living in Victoria Point were born in Australia. The other top responses for country of birth were England 8%, New Zealand 5.3%, South Africa 1.2%, Scotland 0.9%, Germany 0.5%. 92.6% of people speak English as their first language 0.5% German, 0.4% Afrikaans, 0.2% Finnish, 0.2% Dutch, 0.2% French.
Education:
Victoria Point is home to five schools, two state and three private. Victoria Point State School is the local state primary school and Victoria Point State High School is the secondary school which has over 1200 students attending.
St. Rita's Primary School, a Catholic school which runs its own church, is located on the same road as Victoria Point State High School and. Faith Lutheran College, Redlands was established as a primary school in 1982 with 64 students and 3 teachers, situated on Link Road. Subsequent expansion has seen the commencement of its Middle (Years 7-9) and Senior (Years 10-12) School Campus on Beveridge Road in the next suburb Thornlands. The founding grade of Year 12s graduated in November 2007.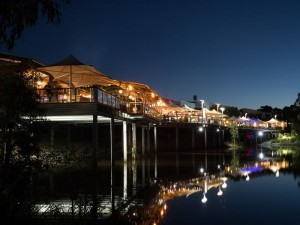 Redlands foodie adventure
When it comes to food and drink, the fresher the better, and the Redlands delivers freshness in spades.
On Sunday mornings at Eat, Bake, Grow Market at Mount Cotton you can stow your purchases in one of its sustainably made shopping bags – and you're going to want more than one. Enjoy strawberries still sunshine-warm from the farm and grab a flaky pastry to munch as you browse the fresh produce stalls. Your bags will grow steadily heavier as you stock up on free-range meat and eggs, fresh fruit and cut flowers.
While in Mt Cotton, visitors with a taste for the finer things should pay a visit to Restaurant Lurleen's at Sirromet. Presided over by award-winning executive chef Andrew Mirosch, the menu showcases the best of modern Australian cuisine. You'll find it hard to choose from the extensive menu, which includes bay-fresh seafood, game meats such as rabbit and venison, and a variety of vegetarian options. If you can't make up your mind, indulge your senses with a decadent seven-course degustation. Looking out over Moreton Bay and sprawling vineyards, you can accompany your feast with an expertly matched selection of Sirromet's own award-winning wines. If you'd prefer to roam the vineyards, book one of Sirromet's winery tours, and finish your afternoon with a casual bite on the Tuscan Terrace.
On Straddie, make the most of your island location and sample the freshest of seafood, straight from the trawler. Rufus King at Amity Point and The Prawn Shack at Point Lookout serve up fresh local seafood every day. Grab yourself a kilo of bay prawns and enjoy with the sand between your toes as you watch the tide roll in.
If you're after a different kind of dining experience – Wellington Point's Off the Wall Diner offers just that. The Diner serves arguably the World's Hottest Burger, a gastronomic experience that is not for the faint of heart. Rubber gloves are doled out to those who choose to take on the burger and, amid the weepy eyes and fiery tongues; it's a rare person who polishes off this chilli vehicle completely. Off the Wall also serves a mouth-watering selection of other burgers and breakfasts.